Girl From the Pacific – a name that conjures up images of sundrenched islands and lustful, exotic getaways. Imagery that seems a world away from the crisp spring air of Aarhus. For the first time in SPOT festivals history, collaboration with ARoS resulted in a gig scheduled for the top of the museum, and the opportunity for Anders Stochholm to release his Pacific love letter to the world.
Inside by Sarah Murphy. Jutland Station. 
I went along at 7pm to the first of the two 25-minute performances to take place last night, held in Olafur Eliasson's Your Rainbow Panarama. It was spectacular venue and certainly the most impressive in the festivals line up.
Sleepy and contemplative electro melodies chased a heart-thumping baseline, playing out like a love letter written in the dead of the night. A slow-release narrative of Stochholm's time spent on an unnamed South Pacific Japanese island – where he drew inspiration for last night's gig.
The result was sound the musician calls "pacific electro"; laying claim to a mash up of electronic beats with a subtle Eastern influence. This was a kind of cultural colonisation that speaks volumes and is especially poignant for this South Pacific girl.
The Portuguese Man Of War – Your Rainbow Panorama – ARoS – Spot festival from Skipper Ib on Vimeo.
Over the course of around 20 minutes the audience was treated to a technically perfect and seamless performance – no easy feat in a 150-metre-long and three meter-wide, plastic panoramic walkway. It's easy to overlook just how much skill was needed to pull off such an achievement in sound engineering.
This is one show which certainly, albeit subtly, straddles both the performance art world and the live music world.
Unfortunately this subtly was perhaps lost in translation. Phone's and camera's became the eye through which most of the audience chose to experience the show. Some going all out, clearly unable to resist the odd selfie.
Stochholm says this show has been an attempt to find his place in the world but I couldn't help but feel like everything during the experience felt once-removed from his source of inspiration; the far away Pacific.
I'm left wondering if when trying to find your place in the world, can you really ever escape an ingrained yearning of home?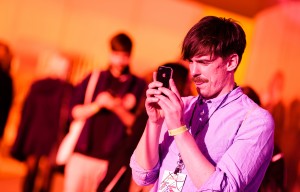 This article was produced independently by Jutland Station.